eClinicalWorks Blog Details
All about Eva, progress, and innovating together
eClinicalWorks
CEO Girish Navani paused, scanned the sea of faces in front of him at the annual Keynote and Product Showcase, and with a rainbow of paper charts displayed on the big screen behind him, declared: "We took your paper charts away. How many of you still have these racks in your offices?"
As you would expect at a conference all about electronic healthcare IT, no one raised their hand.
"I mean, what a real estate waste you guys used to have!" Girish continued. "Those are gone friends, they're gone!"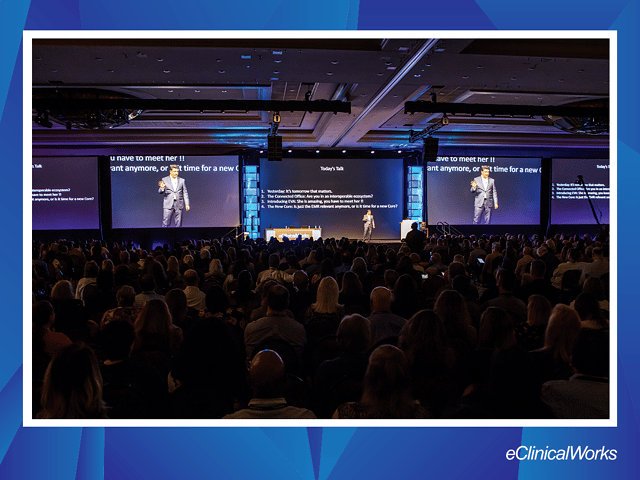 That's a good thing, of course, but think what it means! In 2001, when eClinicalWorks was in its infancy, only 18% of office-based physicians in the U.S. were using any kind of Electronic Health Record (EHR) system, according to the Centers for Disease Control and Prevention.
Today, that figure is well over 80% for office-based, ambulatory practices, and nearly universal for hospitals. It's just very difficult to practice modern medicine without powerful tools for documentation, analysis, and innovating together.
But even as the first great EHR revolution is now ending in victory for advocates of electronic resources, the second great revolution is already well under way. This time, it's about deepening and extending existing connections. The hard part — building the basic architecture of the EHR world — has been completed. Now comes the even harder part: Making sense of it.
Practices today have a lot more to think about than which EHR vendor to choose. That's just the start. And while eClinicalWorks is confident that our industry-leading, cloud-based solutions are on the leading edge of healthcare IT, we also recognize that the future does not belong to any one player, but to those who can collaborate, integrate, and forge effective partnerships.
The 2017 eClinicalWorks National Conference has turned the spotlight on those themes as never before. Friday's Conference centerpiece — the annual Keynote and Product Showcase — was alive with innovation and inspiration.
Were you looking for something new and impressive? You met Eva, the EHR industry's first virtual assistant.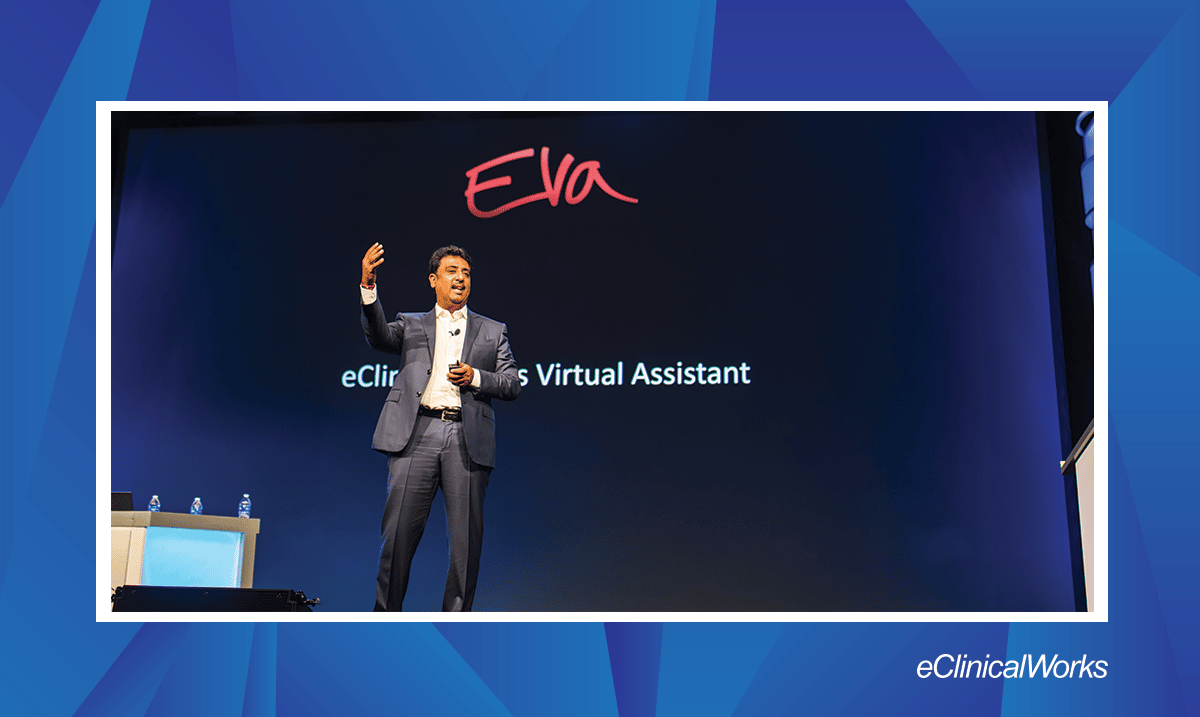 "Eva is smart. Eva is beautiful. Eva can multitask. And my wife doesn't mind her!" – Girish Navani
If you were hoping for additional functionality, you were not disappointed. With the coming V11 version of the core eClinicalWorks EHR, providers will have more options than ever before, new tools for visibility, and the incorporation of genetic profile data, pushing medicine further and further toward a future of individualized medicine that goes to the most fundamental level of each person's makeup.
Or how about interoperability? eClinicalWorks has developed partnerships with both Carequality and the CommonWell Health Alliance. Now, customers can self-activate, gaining access to patient data from participating hospitals with a few simple keystrokes. And those few practices that are still trying to catch up to the fast-moving world of EHR can skip over years of incremental progress and touch the future more easily than ever.
So is everything right in the world of healthcare IT? Not quite.
Some providers still complain, with good cause, about the burdens that compliance and reporting impose upon them. Being a great doctor or medical organization is hard enough — proving that you're great can be still harder, and consume time you'd rather spend on patient care.
"Innovation has some downside as well," Girish said. "And you may go 'What can it be?' It's called change. It's getting used to innovation."
The good news? The tools to prove one's medical expertise have never been more abundant, useful, or affordable.
From fine-tuning V11 to putting new emphasis on patient safety, eClinicalWorks is facing the challenges of the healthcare future with enthusiasm and a renewed commitment to every one of our 15,000+ customers.
Given the loyalty, hard work, and innovative thinking that thousands of those customers have brought to Dallas, we are confident that we'll round up a lot more great ideas over the next few days. The future is never easy. But with the kinds of partners we have, improving healthcare together is more than a slogan and more than a mission — it's a true calling.