eClinicalWorks Blog Details
The Infinity Gauntlet of Healthcare Interoperability
eClinicalWorks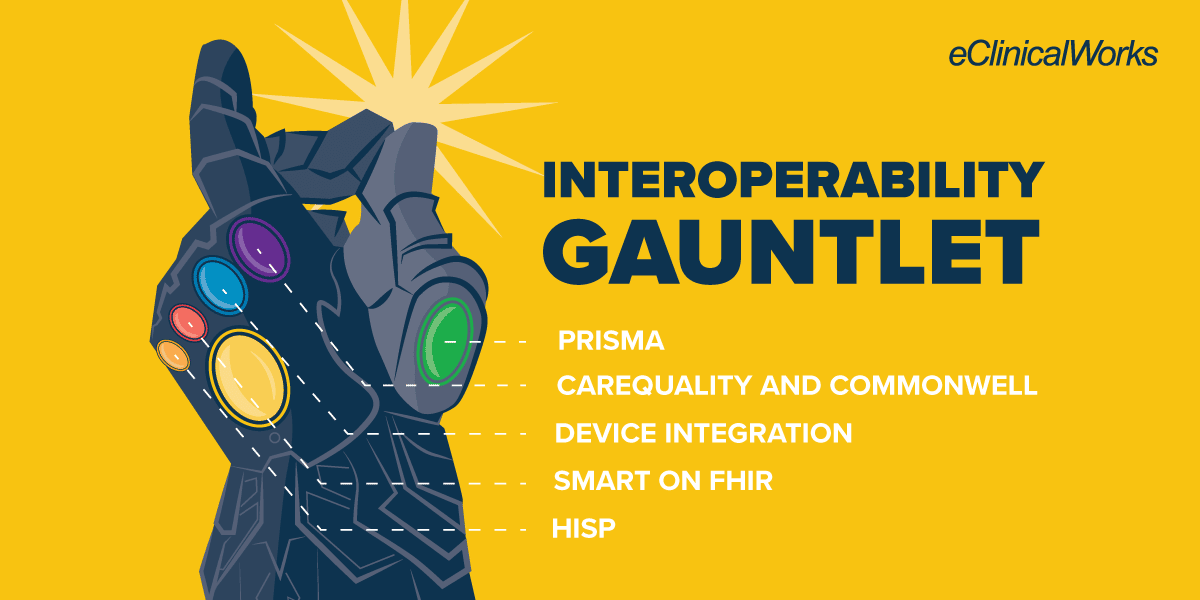 Interoperability: Are we there yet?
Without effective interoperability, practices can be stuck in the past. Today, health information needs to move quickly among physicians' offices and hospitals. The goal of interoperability is to allow this health information to flow securely among practices and facilities nationwide.
Maybe you've heard of Marvel's Avengers film series? Even if you haven't watched them, we promise, no spoilers! To power the Infinity Gauntlet and change the Marvel Cinematic Universe, the supervillain Thanos needed to place the Infinity Stones into their proper places. Interoperability is as multifaceted as the Infinity Gauntlet – requiring multiple attributes that, when put together, have the power to change healthcare.
The potential for interoperability
Striving toward a fully integrated network that allows for the free flow of patient data across healthcare IT systems eliminates problems and improves healthcare. Interoperability can improve the quality of care and increase efficiency within and among medical practices.
A report by the American Hospital Association reveals that true interoperability shows promise. Health organizations and hospitals are investing in interoperability, and Congress is supporting related legislation. Although interoperability has not reached its maximum potential, hospitals and healthcare systems have produced measurable results.
eClinicalWorks® understands that today's complex healthcare systems are increasingly focused on interoperability, promoting more effective transmission and integration of patients' data. As the world of healthcare moves towards an ecosystem of interoperability, eClinicalWorks recognizes its role in promoting a shared system amongst EHRs.
eClinicalWorks is striving to promote and improve interoperability:
Fifty million documents are exchanged monthly through Carequality, the CommonWell® Health Alliance, and eClinicalWorks. eClinicalWorks gives providers access to complete patient histories on demand and at the point of care.
Better interoperability in healthcare starts with PRISMA, a health information search engine that brings together medical records from primary care providers, specialists, clinics, urgent care centers, and hospitals to create a searchable, timeline view of a patient's health history.
With interoperability and device integration through eClinicalWorks, your practice can capture the structured data you need from a variety of devices. Through On-Demand Activation, you'll have the registry reports you need, along with trending analysis, flowsheets, comparisons, and past results.
SMART on FHIR is an open, standards-based technology platform, enabling developers to create apps that seamlessly integrate and securely run across the healthcare system. These apps will embed valuable add-on features into your daily workflows to improve clinical care and help third-party developers collaborate with eClinicalWorks.
eClinicalDirect HISP supports direct interoperability across all certified EHR vendor products and healthcare organizations for the secure exchange of authenticated personal health information.
Together, let's create an endgame to the confusion and disorientation that can be present in the field of healthcare and move toward interoperability.