eClinicalWorks Blog Details
Record Retrieval Made Easy With PRISMA
eClinicalWorks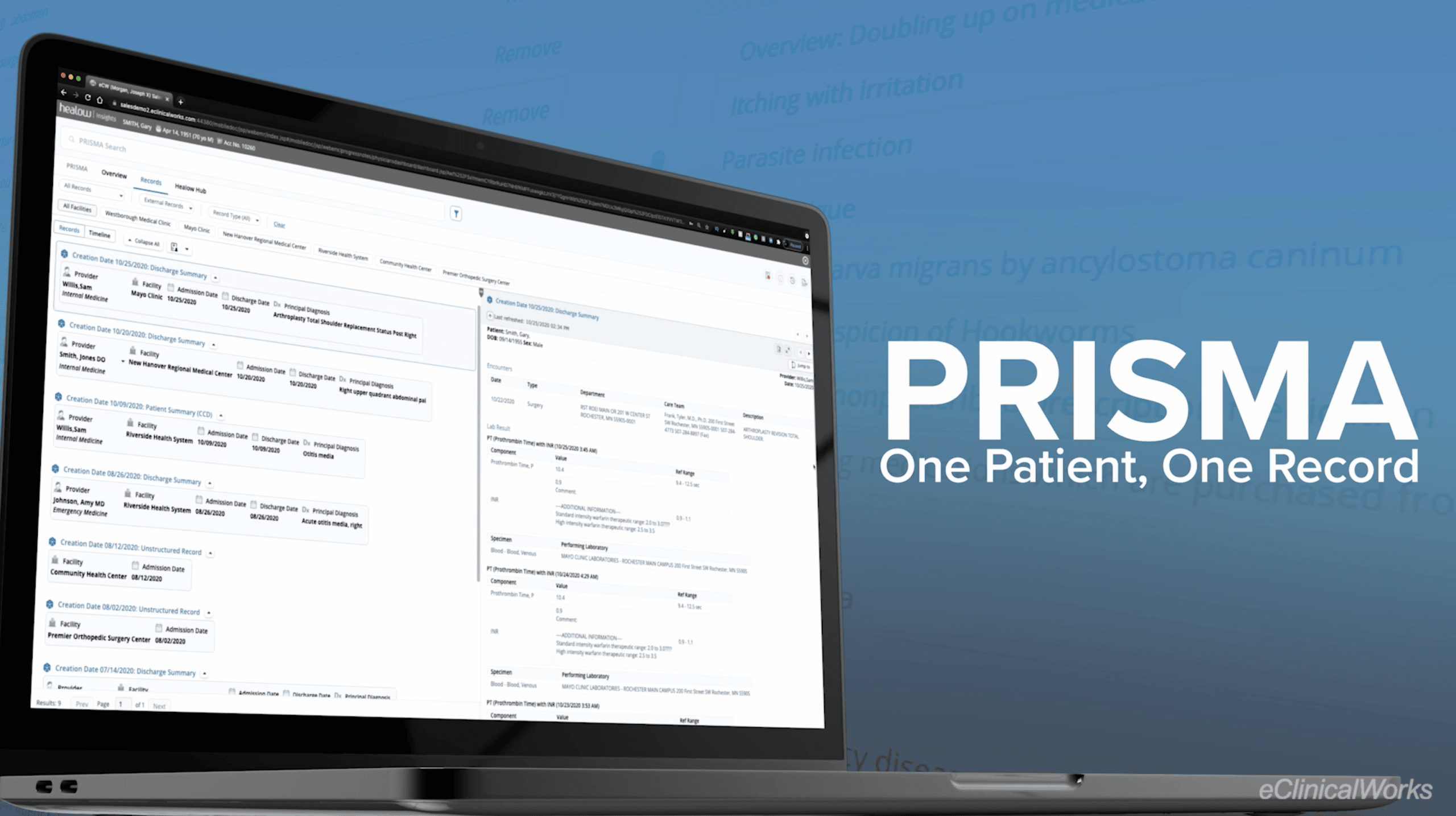 Patients today are likely to visit many different healthcare facilities to receive care. When going from place to place, it's possible that records may not be as accessible to providers as necessary. That's why we've created PRISMA, the eClinicalWorks® health information search engine.
What is PRISMA?
The PRISMA health information search engine helps providers truly know their patients by bringing together records from multiple sources and strive toward a one patient, one record approach to healthcare.
PRISMA lets providers:
Obtain patient records from other providers and hospitals
Search the patient's complete record by using keywords or abbreviations to locate conditions, diagnoses, treatments, medications, and more
Better understand a patient's health history through an organized timeline view
PRISMA in action
Recently, a patient walked into Carolina Heart and Leg Center with an urgent problem. This was a new patient with ulcers who needed to undergo a procedure. Once staff started reviewing the patient's chart, they realized that the patient had no medical records in the system.
Right before the patient came into the office, Trish Haynes, the practice's manager, had called a meeting to train her staff on the use of PRISMA.
So, they decided to use the solution!
By doing so, the staff were able to quickly receive the patient's medical information, saving the patient from additional studies and imaging. With the information now available, the patient was granted authorization from their insurance company to get the procedure done immediately.
"This was very critical," Haynes said. "He could have lost a limb as a result of this."
Watch this video to see how PRISMA has been leading to better care coordination at Carolina Heart and Leg Center.
Interested in learning more about PRISMA? Schedule a short one-on-one meeting with one of our experts today!
{{cta('29d02b59-6dad-4ae6-af34-7ea43544e7e5′)}}