eClinicalWorks Blog Details
Summer Can Mean Orthopedic Trouble and eClinicalWorks Can Help
eClinicalWorks

Whether you live in the mountains, by the sea, or in town, summer is great for getting out and staying active. It's also — oops! — prime season for injuring one or more of those complicated joints, tendons, and ligaments that allow humans to walk, run, jump, bend, twist, and move in complex ways.
Exercise and movement are great for health, but even light and moderate exercise can lead to injuries.
When weekend warriors turn into the walking wounded, eClinicalWorks can help orthopedists document care. Our comprehensive, cloud-based EHR and Practice Management solution meets the needs of orthopedists whether they run a stand-alone practice or belong to an Ambulatory Surgery Center.
Practices often want to change EHRs — but hesitate to do so
Medical practices switch EHRs for many reasons. Sometimes an existing solution cannot accommodate their growth. Or, it may be too slow, too cumbersome, or too expensive.
Still, practices often hesitate. Given the sheer volume of EHRs available, researching them and choosing just one can be intimidating.
What sets eClinicalWorks apart? Think of it the way any athlete thinks about their exercise routines: Planning, warming up, and knowing their limits.
The eClinicalWorks difference: Planning
When preparing for a race, a hike, or a long walk, it pays to know the route, bring enough water, and be prepared for weather conditions.
Similarly, when choosing a healthcare IT partner, smart practices look for known quantities. eClinicalWorks has more than 20 years of experience in healthcare IT. As a privately held market leader, we answer to our customers, not shareholders. And every product and service we bring to market is developed with the input and expertise of clinicians.
That's why we offer orthopedists flexible documentation methods, preference cards, templates, and tools for therapeutic interventions. Our telehealth solution, healow TeleVisits™, can diagnose 80% or more of common orthopedic conditions, follow up on office visits, review radiological and imagery tests, and let clinicians prescribe and adjust medications. Plus, telehealth can reduce the risks and inconvenience of travel for patients with limited mobility.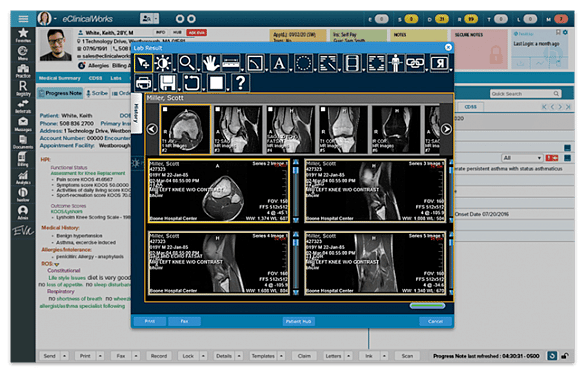 The eClinicalWorks difference: Warming up
Next, just as athletes warm up before working out, eClinicalWorks offers unmatched training so our users understand their EHR and know where to get help.
We work with each customer to make sure they understand the EHR before Go-Live. And we offer support and training long after the sale, starting with assigning a Strategic Account Manager to each practice.
The eClinicalWorks difference: Knowing your limits
No matter how great a practice's staff are, there may come a time when they reach the limit of their knowledge.
That's why eClinicalWorks offers support, training, and optimization services. Some practices will bring in our experts to help their staff make full use of the EHR. Some will use our programs to develop in-house experts. And many attend our annual National Conference to see all we have to offer — and share knowledge and learn from other healthcare professionals.
End the strain and the pain — switch today
Each year sees thousands of practices leave their legacy systems behind for the power and performance of eClinicalWorks. They leave behind the aches and pains of subpar performance, multiple third-party solutions, and ever-rising costs for a comprehensive and innovative healthcare IT partner.
Contact us today to learn more.