eClinicalWorks Blog Details
A New Year Brings a Fresh Start with eClinicalWorks V11.50
eClinicalWorks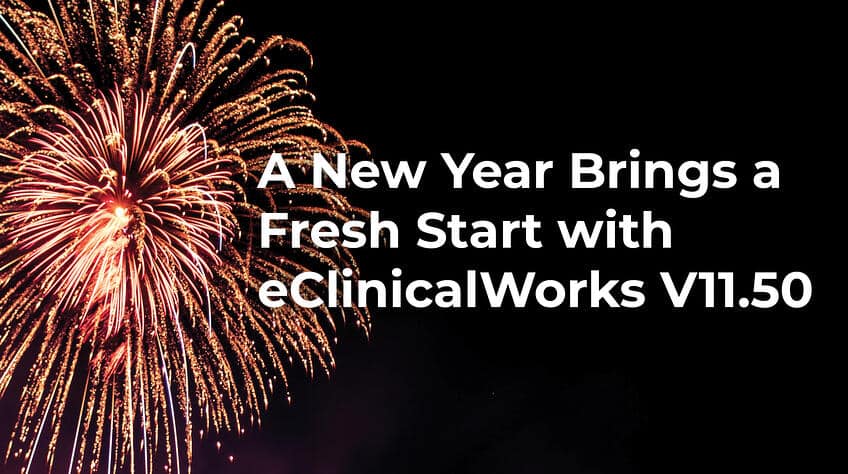 You know that feeling you get when you replace your microwave oven, buy a bigger TV, or finally decide to get a new car? What you had was very good, and you were comfortable with it. But after a few days or weeks of the new model, you can't believe what you were missing!
That's the feeling eClinicalWorks customers are experiencing with the arrival of V11.50, the latest version of our core EHR. Our healthcare IT solutions have stood the test of 2020 — one of the most challenging years ever experienced by healthcare practices. And yet, when customers get a taste of V11.50, well over 90% tell us they are delighted.
Why new tools matter in 2021
The reason is simple. The practice of medicine cannot stand still. How could it in a world as dynamic and unpredictable as ours? For that reason alone, we recognize the need to apply our creativity, imagination, and innovation to the EHR that medical professionals rely upon to conduct more than a million patient visits daily.
And we didn't make just a few cosmetic changes. We examined every corner of our core product and developed solutions in response to the feedback you, our customers, have offered us throughout the last year and more. That means that V11.50 is truly a revolution in healthcare IT.
A smarter, safer dashboard with notifications
Among the most significant changes is an enhanced Patient Safety and Compliance Dashboard with more than 150 KPIs to monitor the performance of your practice's systems. Users can now receive notifications whenever an external system that communicates with their EHR stops working, whatever the reason.
Having such notifications allows the practice to quickly diagnose and fix any problem, thus ensuring the continued flow of information that is critical for safe and effective medicine.
Other improvements include the addition of patient identifiers on each page of the patient's record, which safeguards against misidentifying or mishandling patient information while helping ensure safety. The EHR is also better able to handle special characters that may be added to a record and now offers data truncation alerts that warn a user when they are nearing a character limit and might lose clarity of crucial information.
We've even added a list of coded allergens, largely eliminating the need to enter free text. And practices have new tools to detect and correct any uncoded allergens that may remain in a patient's record.
Your first 2021 resolution: Sign up for a webinar!
To be honest, just like those long user manuals that come with your new appliances, there's simply more to V11.50 than we can possibly cover in a blog. That's why we've created a free, 90-minute webinar that you can attend in January — in English or Spanish.
The webinar will give you more details on everything that's new and the opportunity to ask questions. Sign up today at my.eclinicalworks.com so that we can continue to improve healthcare together throughout 2021 and beyond!