eClinicalWorks Blog Details
Improving Patient Safety Series: How International Standards Are Helping
eClinicalWorks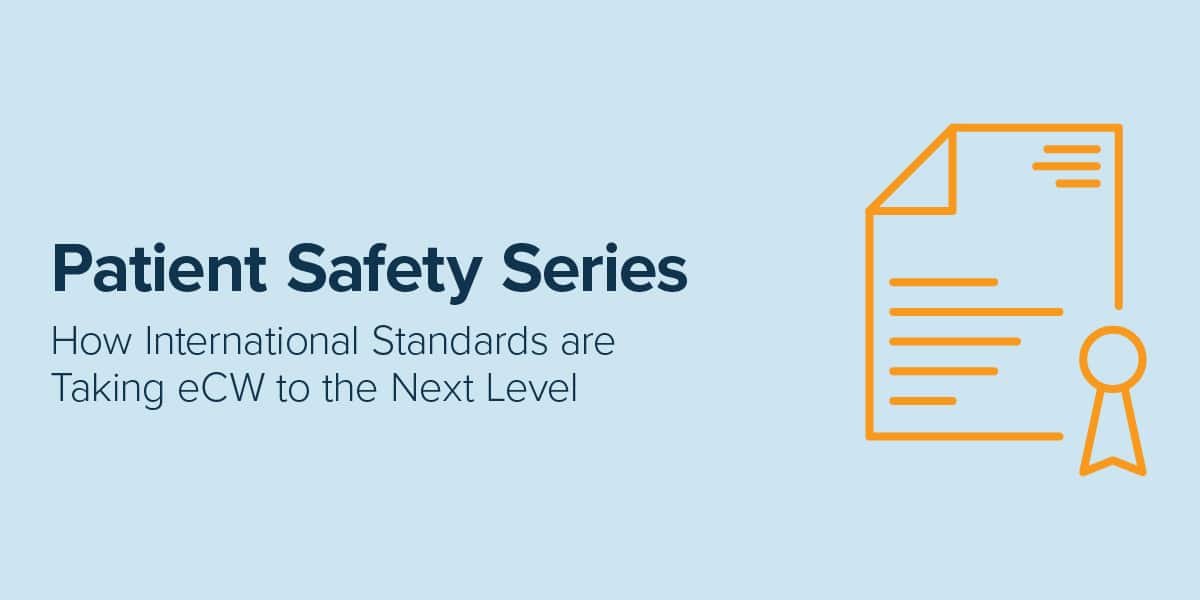 This is the final blog in a series where we focus on how eClinicalWorks® continues to lead the healthcare IT industry in patient safety.
Achieving the highest possible levels of patient safety in healthcare IT is a multifaceted process that includes proper handling of Reportable Events, reducing the Mean Time to Repair any such events, and addressing critical details such as data truncation, the handling of special characters, and uncoded allergies.
Previous blogs in this series have examined how eClinicalWorks is meeting its obligations to practices and patients in these areas; each of these plays an important role in helping ensure the Electronic Health Record (EHR) works as intended.
eClinicalWorks is actively pursuing three certifications around internationally recognized standards that within a few months will clearly set our EHR apart as the industry leader for performance and safety.
DCB-0129 for clinical risk management
DCB-1029 is a U.K.-based standard that helps ensure safety in health IT systems through:
An in-depth assessment of the EHR to fully evaluate the likelihood and severity of every conceivable internally and customer-identified risk to patient safety

Implementation and testing of design controls to mitigate identified risks to the lowest possible level

Follow-up through safety case reports so customers are aware of how these risks were addressed and what risks remain with users of the software
With DCB, every change made to the EHR, however minor, requires testing and evaluation. Moreover, eClinicalWorks monitors the appearance of safety risks across the healthcare IT industry so as to ensure that our software is not prone to any problems that may appear in other EHRs.
ISO 25010 for assessing software quality
Measuring the quality of software is hard. ISO 25010 aims to assess the overall quality and reliability of a software product by examining dozens of characteristics, from ergonomics and usability to functional completeness and security.
ISO 25010 requires that any change to the software be accompanied by before and after analyses to gauge overall impact.
Further, ISO 25010 compares current quality scores of a software product to past scores for that product and does not include cross-company comparisons. That way, users have confidence that the product is improving — rather than simply outperforming alternatives.
IEC 62304 is the lifecycle gold standard
Finally, we are applying IEC 62304 — considered the gold standard for the software development lifecycle — to our entire EHR.
eClinicalWorks is the only company among leading EHR vendors striving to meet IEC 62304 requirements for every aspect of our software development process.

Under IEC 62304, every change to a feature or function of the EHR requires multiple signatures to begin the process, in-depth testing once the change is made, and further reviews to certify that the change has not adversely impacted functionality.
Then, now, and in the future, safety comes first
eClinicalWorks has made steady progress in all areas of patient safety — enhancing the overall safety culture, reducing Reportable Events, issuing notifications, maintaining safety committees, minimizing Mean Time to Repair, and attending to the critical details of how the EHR functions.
But patient safety is not a static process, and our work is never done. When it comes to the health and safety of the patients who rely upon our EHR in every health encounter, there is simply no such thing as "good enough."
In the next few months, we anticipate achieving certification for the standards set by DCB-0129, ISO 25010, and IEC 62304. Together, these standards will differentiate eClinicalWorks from the rest of the healthcare IT marketplace.
For more than 20 years, eClinicalWorks has been a leader in healthcare IT for safety, innovation, performance, and value. As the first EHR company to meet these stringent control and verification standards, we are once again underlining that patient safety comes first.
{{cta('ebc86e4a-ce29-45f1-acdd-acbf127cd3f4′,'justifycenter')}}