eClinicalWorks Blog Details
Improving Patient Safety Series: Uncoded Allergies
eClinicalWorks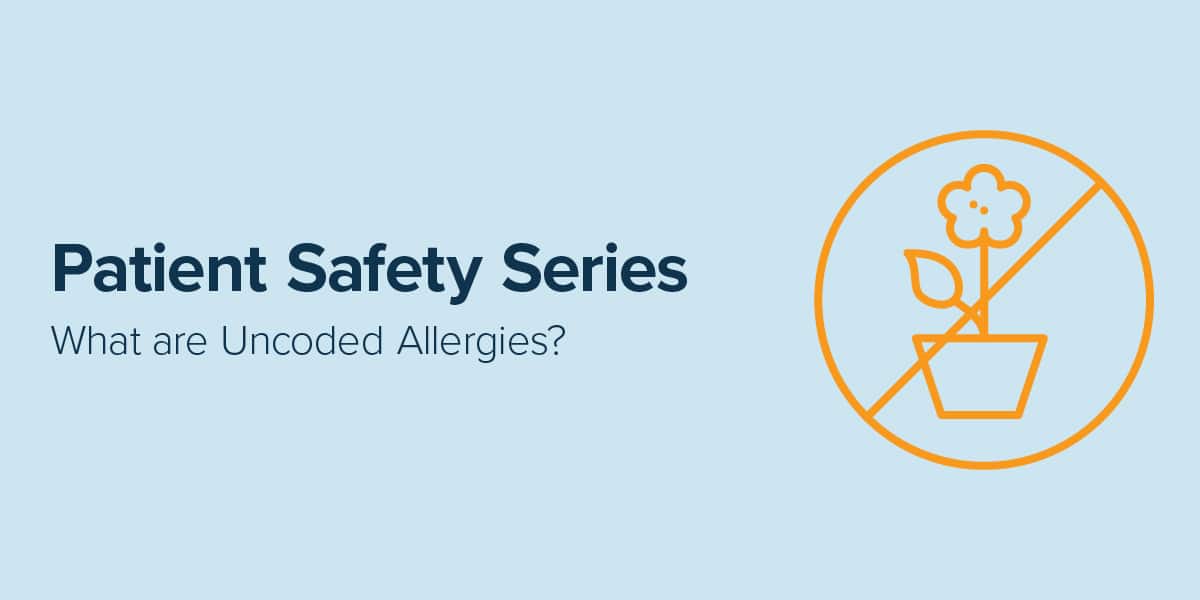 This is the fourth of five blogs in a series where we focus on how eClinicalWorks® continues to lead the healthcare IT industry in patient safety.
The truth about allergies
The difference between a coded and uncoded allergy could be a matter of life and death. Each year in the United States, 200,000 people require emergency medical care for allergic reactions to food. And drug-based allergic reactions account for the most allergy-related deaths. These severe drug reactions may affect a staggering 10% of the world's population — and many of these adverse interactions may have been prevented.
Finding a place to record and take note of allergies is essential to keeping patients safe. Placing this data within an Electronic Health Record (EHR) is an effective and vital means of doing this when you consider that between 20% and 35% of the U.S. population has one or more medication allergies listed in their EHR.
But what about those allergies that miss the cut? Although many allergies are recorded, the large number of incidents that occur each year indicates that there is a disconnect between the number of medications listed in EHRs and the number of allergies that might exist among patient populations.
What are uncoded allergies?
A provider utilizes a set of codes found in a medication compendium when entering a new allergy into a patient's Progress Note. For example, if a patient is allergic to penicillin, then they may have to select "Penicillin" from a compendium menu. When allergy entries align with the structure laid out by the medication compendium, this is known as a structured allergy or coded allergy.
With the ability to enter free text, one may imagine that shorthand abbreviations like "PCN" or typing out "Penicillin" may still be categorized as a structured allergy within every EHR system.
Unfortunately, that isn't always the case.
If the free text entry doesn't match up with the medication compendium, then it is known as an unstructured or uncoded allergy and will not trigger drug allergy alerts in the EHR. The absence of these allergies is what may cause patient safety issues to arise.
The eClinicalWorks Uncoded Allergies initiative
Across its customer base, eClinicalWorks has identified instances of patients being prescribed medications to which they have a documented allergy, relating, at least in part, to the uncoded documentation of the patient's allergy.
Through our uncoded allergies initiative, eClinicalWorks will help customers reduce the use of uncoded allergies in their eClinicalWorks database, free of charge.
When eClinicalWorks customers join the initiative, they will receive the following:
Identification of uncoded allergies in your patient's charts that can be clearly and readily converted to coded allergies

Application of a mapping tool to automatically convert the identified uncoded allergies to coded allergies, following customer approval

Delivery of an exception report, listing any uncoded allergies in your patient's charts that could not be clearly and readily identified for conversion with a bulk upload tool to coded allergies by eClinicalWorks

Technical support from eClinicalWorks to assist you with understanding how to implement the bulk upload tool so you can convert any remaining uncoded allergies on the exception report to coded allergies
Together, we hope to bring about a safer and healthier world for all. If you are an eClinicalWorks customer, you can click here for more information about our uncoded allergies initiative.
Subscribe to our blog to stay up to date on future content. Check back on the other blogs in the series, including topics on reportable events, reducing Mean Time to Repair, and data truncation and special characters.
{{cta('ebc86e4a-ce29-45f1-acdd-acbf127cd3f4')}}