eClinicalWorks Blog Details
Physician Burnout – The eClinicalWorks Solution
eClinicalWorks
Technology continues to advance in healthcare, but an epidemic of physician burnout continues to threaten the quality of both the doctor's and the patient's experience. Between 2011 and 2014, burnout increased from 45.5% to 54.4%, according to the American Journal of Medicine. That had a negative impact on the quality of care, patient safety, and provider and patient satisfaction. While some EHR companies' solutions may actually make the burnout problem worse by forcing providers to spend even more time on their computers, eClinicalWorks is providing tools that help providers actually reduce the risks of burnout.
The eClinicalWorks virtual Scribe uses highly accurate voice-recognition technology to convert free-form dictation into accurate and comprehensive Progress Notes. Scribe helps providers save time on documentation, get back more of their personal lives, and improve the quality of the healthcare experience for their patients, while also reducing the risk of physician burnout.
Eva, the healthcare IT industry's first embedded virtual assistant, helps providers save time by eliminating clicks and increasing efficiency.
Prizma, a health information search engine, facilitates care across networks by coordinating information from interoperability networks. Integrated directly into the EHR, Prizma provides seamless access for providers, ensuring complete and accurate patient information at the point of care.
A July 2018 study of U.S. physicians conducted by researchers at the Stanford University School of Medicine determined the top improvements providers would like to see in order to overcome burnout. In the short term, 72% of providers want EHRs to improve the user interface to eliminate inefficiencies and reduce screen time. Nearly half (48%) would prefer to shift more EHR data entry to support staff. And 67% of respondents believe that solving interoperability deficiencies should be a top priority for EHRs in the next decade.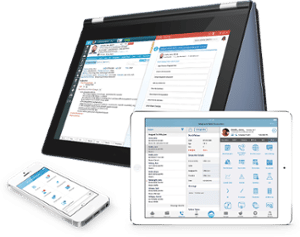 At eClinicalWorks, we're constantly striving to produce innovative products and we are dedicated to creating products to address physician needs and reduce physician burnout. The advanced EHR user interface of V11 eliminates inefficiencies and reduces screen time, helping to provide an outstanding experience for both physicians and patients.