eClinicalWorks Blog Details
How Eva, the eClinicalWorks Virtual Assistant, is transforming the office visit
eClinicalWorks
V11, the latest version of our core EHR, is transforming healthcare by providing physicians and medical staff with tools for comprehensive documentation, in-depth understanding, greater value, and higher satisfaction — for users and patients.
One of the most innovative features included in V11 is Eva, the eClinicalWorks Virtual Assistant. Just as a pair of well-known virtual assistants, Amazon Alexa and Apple's Siri®, have been transforming online experiences for consumers and those surfing the internet, Eva is setting out to make the physician's experience simpler and faster. Let's take a closer look at what Eva can do.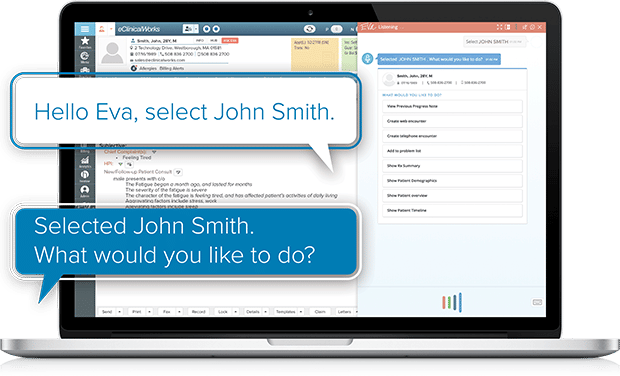 Eva is the healthcare IT industry's first embedded virtual assistant, helps providers save time by eliminating clicks and increasing efficiency. While Electronic Health Records have now largely supplanted paper charts at most practices nationwide, EHRs come with their own set of challenges. Recent research by Stanford Medicine and The Harris Poll finds that while about two-thirds of physicians are generally satisfied with their EHR, 59% believe EHRs nonetheless need a complete overhaul.
The Stanford/Harris findings cite several reasons for that, including concerns about the time required to use an EHR and complete Progress Notes, while trying to maintain focus on what's most important — the patient!
Eva helps address these concerns by giving clinicians a powerful tool at the point of care, and one that directly addresses the very concerns cited in the Stanford/Harris and other similar studies.
Providers can ask Eva to show a patient's Progress Note, flowsheet, account balance, and more. Eva will recall patient histories, let providers compare current and past Progress Notes in side-by-side windows, and even book appointments. The critical difference that Eva provides is doing all this without forcing the provider to click away to a new screen, lose his or her place, or become distracted.
Eva also offers access to educational videos that providers can view right in the same screen. For example, a provider can ask Eva to "Show me how to open a telephone encounter," and Eva will then display a short how-to video. It's that easy! Eva is a great educational tool in addition to a great Practice Management tool.
Providers can use Eva by typing in commands, or they may use voice commands with an added speech bundle.
To learn more, request a live demo. And check out this eClinicalWorks Podcast.