eClinicalWorks Blog Details
Fulfilling a Medical Dream With eClinicalWorks
eClinicalWorks

A nurse practitioner returns to her roots
For Nurse Practitioner Judy L. Jones, who has practiced medicine for more than 25 years in the Waynesboro, Tennessee area, getting back to what she loves best about medicine — primary care — was a matter of trust.
Jones had operated an independent practice for years before switching to an urgent care clinic nearly five years ago.
"I found that I was not as cut out for urgent care as I thought I was," she said. "I really missed primary care. I just didn't feel like I was giving enough of myself to the clients."
After a bit of soul-searching, Jones decided to trust her instincts and once again open an independent, primary care practice.
Advantages: Community, experience, loyal patients
In doing so, Jones was defying a trend of physicians shifting toward working for someone else. The 2018 AMA Physicians Practice Benchmark Survey showed that, for the first time, more physicians were employed by someone else (47.4%) than owned their own practices (45.9%).
But Jones had two key advantages.
She was rooted in Waynesboro, a community that had seen several providers close in recent years and thus needed primary care practitioners.
"The community knows who I am," she said. "I had a group of patients wanting to come back to the practice. So, I'm not having to start from scratch."
Jones also already knew that eClinicalWorks® would make a great healthcare IT partner.
"I wanted to get a billing person on board first and work my way from there," Jones said. "She had experience with eClinicalWorks. And I had experienced eClinicalWorks from a provider side in that several of the specialists I referred to use this particular product. I liked the way the Notes looked. They were easy to understand and very comprehensive."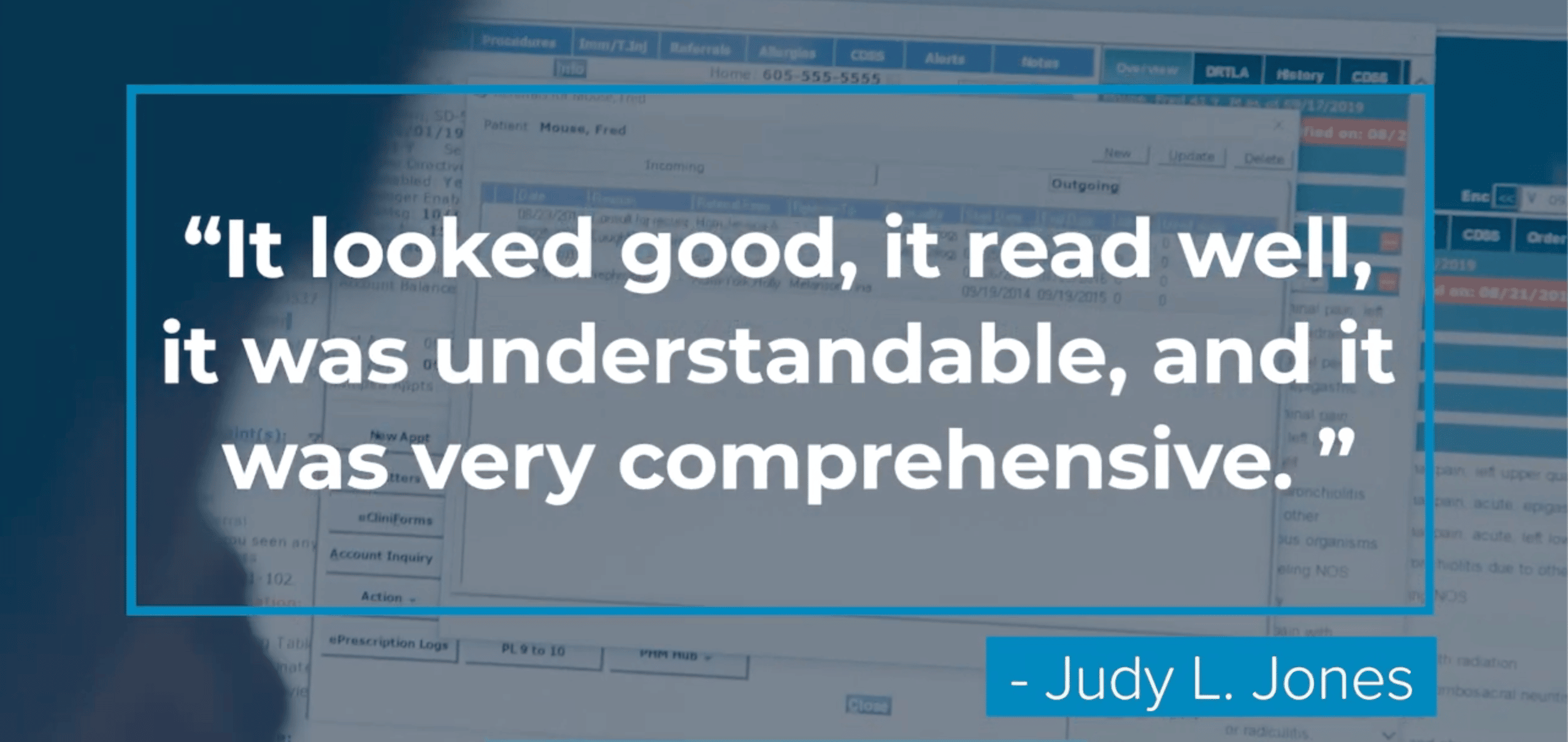 Coronavirus couldn't derail her dream
A third advantage quickly became clear when Jones began training with eClinicalWorks: The COVID-19 pandemic would not be allowed to stop or even slow the realization of her dream to return to private practice.
"Even though the times are challenging, we are able to use telehealth services," Jones said. "eClinicalWorks is just fine with that particular mode of patient care. We can work our telehealth visits in-between patients in the office. And do social distancing. So, I feel like we'll have a successful practice."
Jones said the trainers and account managers she has worked with have been outstanding, always there to answer her questions and guide her.
"eClinicalWorks has been very positive," she said. "I find that the pandemic has had no effect on the Electronic Health Record. It has always been positive reinforcement, that you can do this, we're going to make it, that while it may seem big and overwhelming, we'll break it down, we'll get to it."
EHRs, then and now
Jones recalled that in 2006, while operating her first independent practice, she switched from paper records to her first Electronic Health Record. She chose what she felt she could afford — a new company that was not well established.
Today, in her new endeavor, she finds that eClinicalWorks offers both the quality and support that her former EHR could never provide.
"It's a great choice as far as I'm concerned," she said. "It provides your needs without being so complicated that you can't use it. You've got to have a sound record system and documentation process to be able to meet your compliance guidelines for your insurance companies and so forth. eClinicalWorks provides those things for me."
"In these trying times, don't give up. This is a great company to work with to help you achieve your dream."