eClinicalWorks Blog Details
We can live in an optimized world
eClinicalWorks
How training can improve EHR satisfaction
One of the most familiar stories in healthcare IT is chronic dissatisfaction with Electronic Health Records (EHR). Study after study shows more than half of practices aren't completely happy with their current EHR, although a much smaller number are actively seeking a new system at any given time.
That figure ranges from 15%, according to a 2016 report in Medical Economics, to as many as 30% over three years, according to a 2018 survey by Becker's Health IT & CIO Report.
But even after adopting a new EHR, many practices find that they have merely traded one set of problems for another.
At eClinicalWorks, we believe there is a way to break the cycle of chronic dissatisfaction with the EHR. The first step, naturally, is creating the best possible system, one geared for performance, ease of use, and patient safety. But it is the next step — training — that can make all the difference.
While we don't live in an ideal world, we do live in one that can be optimized. That's why, following a customer's Go-Live, the Implementation and Optimization team at eClinicalWorks is available to help interested practices with additional, on-site optimization training.
Even the most successful Go-Live, notes eClinicalWorks' Surya Racherla, can be a bit overwhelming for practices, who will quickly grasp the most important features and functions of the EHR, but may need additional time to discover and take advantage of all that the software has to offer.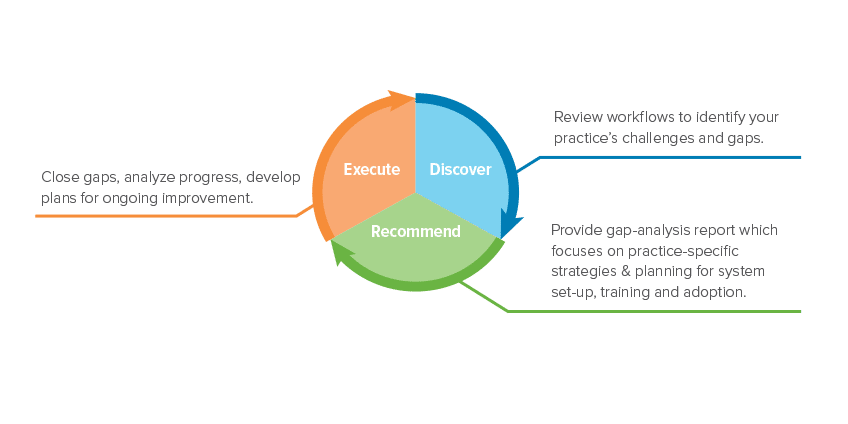 Racherla offers a list of eClinicalWorks products and services that practices can take advantage of, including Kiosk for check-in, Patient Portal for communications, e-Payment solutions, healow Open Access® for appointment booking, prescription histories, templates, Order Sets, and many more.
The Optimization Services team at eClinicalWorks can set up any of three approaches based on a practice's needs, from do-it-yourself — where the practice does the majority of the analysis and receives minimal training — to one directed mostly by the eClinicalWorks team.
Can't get enough about eClinicalWorks Optimization Services? Check out our podcast From Go-Live to Optimizing Your EHR.
Whatever the approach, clients go through discovery, analysis, and recommendations phases, and emerge with greater knowledge, skill, and confidence in the use of the eClinicalWorks EHR.
As Racherla notes, the process gives a practice greatly enhanced visibility and understanding of how they are performing, with dashboards for patient safety, tasks, prescriptions, templates, and Order Sets. Many clients report success in improving their coding and closing gaps in care, both of which tend to have beneficial effects that extend beyond the patient encounter, including less need for providers to take work home with them, thereby easing the risks of physician burnout.
"The only thing worse than training your employees and having them leave is not training them and having them stay."
Henry Ford
Optimization training won't solve every problem a practice faces, but it can give providers and staff the knowledge and confidence they need to develop creative solutions — while increasing satisfaction, both in the office and among their patients.
For more information about eClinicalWorks Optimization Services, contact your Strategic Account Manager, put in a request at my.eclinicalworks.com, or attend an eCW Day event scheduled for a city near you.