eClinicalWorks Blog Details
EHR satisfaction and the workplace
eClinicalWorks
It requires a great product and great training
Beginning in the early 1980s, a transformation of American medicine began that few medical professionals foresaw. And it wasn't a miracle drug, a research breakthrough, or some dreaded new disease that did it. It was, to put it simply, the computer.
The Electronic Health Record (EHR) is today nearly ubiquitous in American medicine. The electronic revolution that began in the 1980s has been completed in the early years of the 21st century. A survey by the American Society of Health-System Pharmacists, for example, found that 99% of hospitals in the U.S. in 2016 use an EHR, compared to just 31% in 2003.
But along with all that promising technology has come some sobering reality: The EHR is not a cure-all, and many practices are dissatisfied with whatever system they are using. At any given point in time, a significant percentage of hospitals and ambulatory practices are in the market for a new EHR system.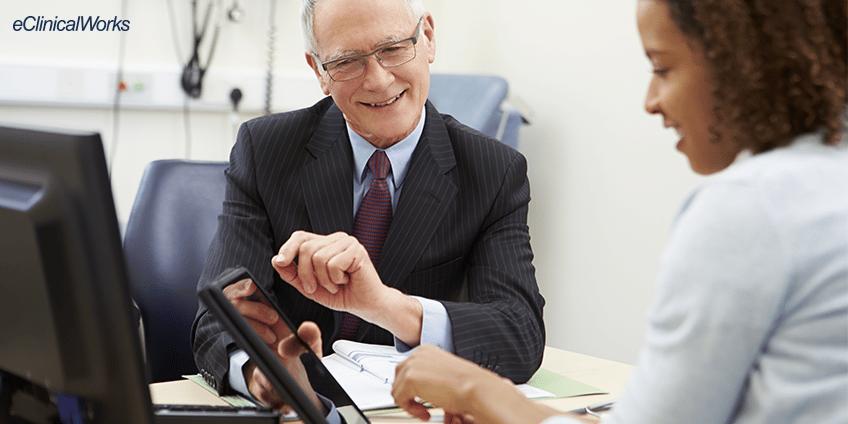 Some shopping for new EHRs can be attributed to cost considerations alone, or reorganizations that have little to do with the features the EHR offers, or user satisfaction. But a recent study by Penn Nursing's Center for Health Outcomes & Policy Research (CHOPR) finds that the healthcare work environment — and not the EHR itself — may have a good deal to do with the variation in users' levels of satisfaction with their EHR.
The CHOPR study, published in the journal Applied Clinical Informatics, gathered data from more than 12,000 nurses working at more than 350 hospitals spread across four states. Researchers found that between 25% and 33% of nurses believe their EHR either interferes with patient care or does not help them do their work efficiently.
Those findings are no surprise, and in keeping with many previous studies that show EHRs can be a mixed blessing. But the study also found that nearly 40% of nurses working in hospitals where they considered the work environment poor, were dissatisfied with the EHR they were using. By contrast, only 20% of nurses whose work environments were described as better expressed dissatisfaction with their EHR.
"Work environment plays a significant role in how nurses evaluate EHR usability and whether EHRs have their intended effects on improving quality and safety of care."
– Ann Kutney-Lee told HealthData Management, lead investigator
The bottom line? Work environment, Kutney-Lee said, may be more important to delivering safe patient care than the type of EHR in use.
That makes sense to us at eClinicalWorks. We are confident our EHR/PM solutions are industry leaders for performance and safety, but we also understand that the best products in the world cannot be effective if users don't understand them. The key to success in healthcare IT is having both — the best possible EHR, along with expert training and enhanced communications in the workplace.