eClinicalWorks Blog Details
eClinicalWorks Scribe: A Tale of Two Patients
eClinicalWorks

Putting AI to work for easy and accurate Progress Notes
The COVID-19 pandemic forced medical practices to take a closer look at many aspects of their operations. When offices closed, telehealth suddenly grew in popularity and has become an integral part of care delivery. Contactless methods for booking, check-in, and payments have flourished. Practices of all kinds and sizes across the country have found smarter and more convenient ways to gather information and deliver care.
But more intelligent and more convenient methods haven't been limited to booking patients and collecting payments. For many practices, the patient encounter itself has been transformed — thanks to artificial intelligence (AI).
Consider, for example, Open Door Family Medical Center, which has six offices, nine school-based clinics, and a mobile van to serve communities throughout the Hudson River Valley north of New York City.
Back in 2014, the practice engaged a company that provides human scribes for medical practices. All went well — until the pandemic struck.
A sudden change forces new thinking
"The scribe company had to pull all of their scribes out of our health centers," said Dr. Daren Wu, chief medical officer for Open Door. "That was a big change and a bit traumatic to go from having all your Notes transcribed for you to suddenly having to type your own Note again. At that point, all the benefits of having a human scribe on-site were lost."
"That's when we started really thinking, is there a more cost-effective way? Is there a more scalable way?" Dr. Wu continued. "Because, at this point we really wanted to also expand scribing support from more of our clinicians. So, we started looking at different AI-enabled scribing services, and it turned out that eClinicalWorks had one."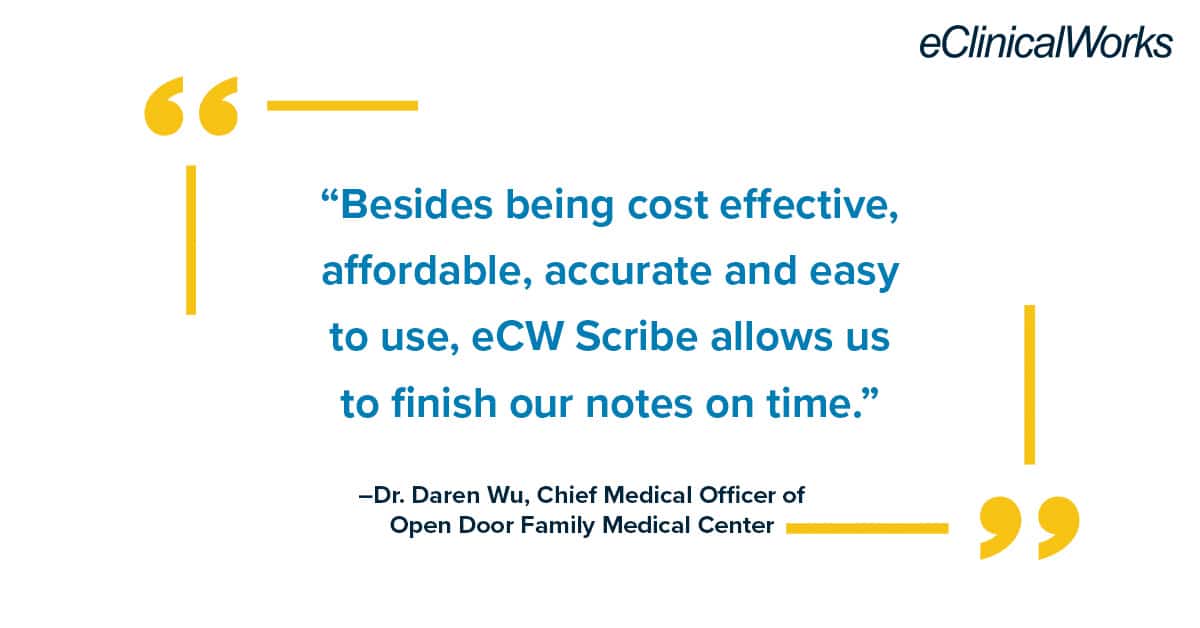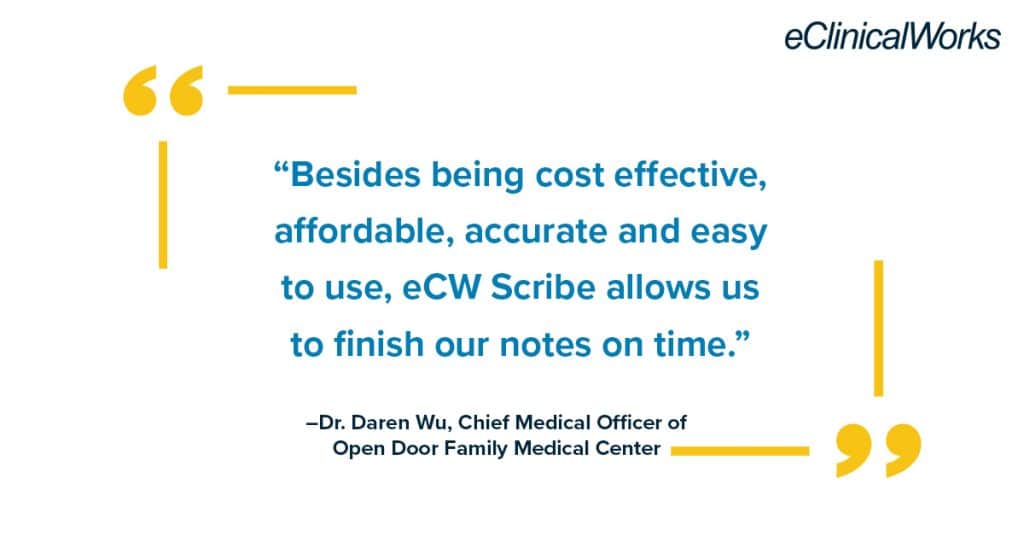 Calculating costs based on two patients
The clinicians at Open Door were impressed by the accuracy and ease of use they enjoyed with eClinicalWorks Scribe. But the bottom line was equally impressive.
Dr. Wu said that the costs for human scribes had risen over the years to the point where each physician using a scribe would have needed to see another two patients every day to make up for the increase. But with eClinicalWorks Scribe, a provider could see just two more patients each month to make it cost-effective.
Based on patient caseloads at Open Door, Dr. Wu calculates that that 30-fold difference yields a savings of nearly $45,000 per provider each year.
"That is a great return on investment!" he said.
Listen to Open Door's Scribe story below