eClinicalWorks Blog Details
And the HIMSS Davies Award Goes to…
eClinicalWorks
HIMSS 2016 is around the corner and we are excited to show attendees the new solutions and enhancements we have been developing, including 10e and our new solution for acute care. We'll be at booth #4217, so come join us during the conference. We are proud to say that our long history with HIMSS includes 14 customers to date that have received the HIMSS Davies Award with an average ROI of 200%. These award-winning organizations represent more than 3,000 healthcare providers serving approximately 2.4 million patients across 9 states, during the time of their award entries.
The below infographic gives highlights into a sample of these groups.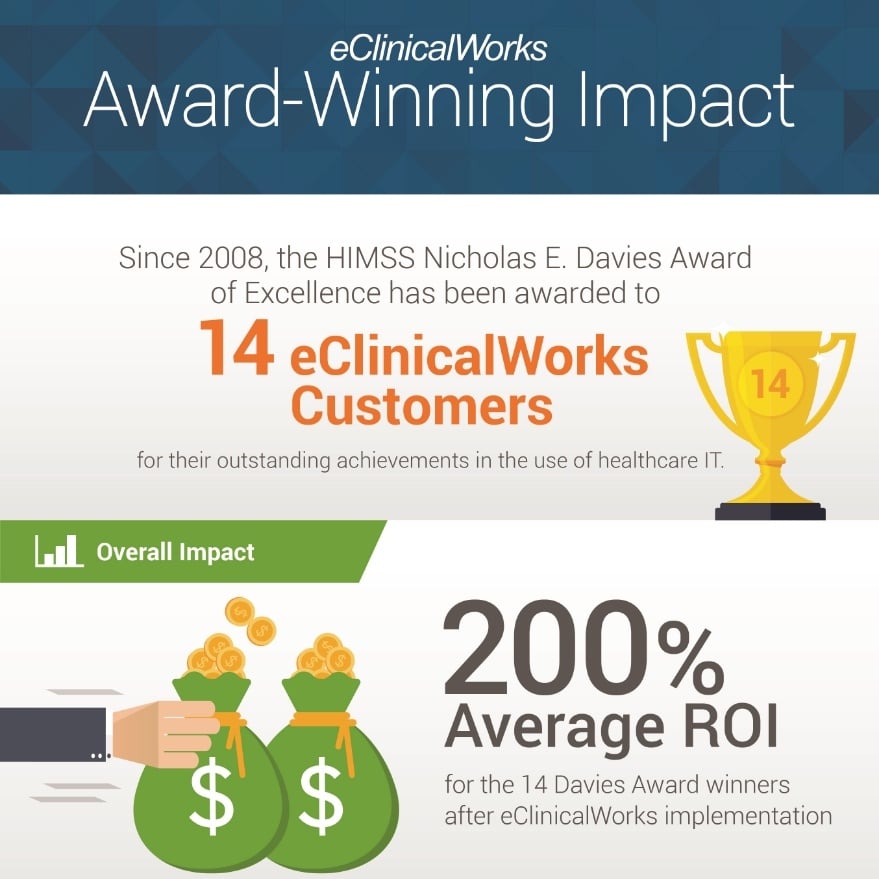 Additionally:
White River Family Practice has experienced a 223% ROI since implementing eClinicalWorks in 2009.
New York City Department of Health & Mental Hygiene (The Primary Care Information Project) achieved a net savings of $6.62 per patient per year for every patient seen by a provider using electronic prescribing by avoiding adverse drug events. An additional savings of $2.43 per patient per year resulted from a reduction in duplicate lab tests.
Fremont Family Care saw the rate of patients, who were 50-75 years of age, which had a colonoscopy rise from 37% in the first quarter of 2011 to 70% in the second quarter of 2014.
---
These accomplishments exemplify how, working with our customers, we are improving healthcare together. We hope you are as excited as we are to see our new developments, which you can experience firsthand through live demonstrations at our booth.
If you are attending HIMSS, take a moment to use the hashtag #HIMSS16 and follow us at @eClinicalWorks. See you in Las Vegas!