eClinicalWorks Blog Details
The Dawn of the Network EHR
eClinicalWorks
'The network is the computer'
During this year's virtual eClinicalWorks® and healow® National Conference, CEO Girish Navani cited technology pioneer John Gage's phrase, "The network is the computer."
Why? Simply because the phrase Gage coined in 1984 is truer today than it was back then.
Gage's point was that the power of the personal computer resides not in the computer itself but in the information networks to which that computer belongs.
Nearly 40 years later, his vision has been fulfilled across every tech-related industry, and dramatically so in healthcare.
Interoperability opens the way to exponential growth
Today's healthcare IT visionaries no longer focus on point-to-point connections between one healthcare facility and another. Rather, they connect with and expand nationwide networks that can pull data from thousands of participating medical facilities.
It's the difference between holding a one-on-one consultation with a professional colleague versus having the entire medical community on a nationwide conference call.
That's why a network EHR — one that builds upon the same technologies that made the internet possible — can truly revolutionize the way physicians practice the art of medicine.
The number of connections count
When it comes to the elements of a network EHR, both the number of connections and their quality matter.
According to Metcalfe's Law — named for technology pioneer Robert Metcalfe — the value of a telecommunications network is proportional to the square of the number of users who are connected to the system.
An interoperability network in healthcare is akin to a telecommunications network, with thousands of hospitals, clinics, practices, specialists, and urgent care facilities feeding information into the system. As the number of users rises linearly, the utility of the network increases exponentially.
In September 2021 alone, for example, eClinicalWorks practices exchanged more than 42 million patient records, enough to cover about 12% of the U.S. population!
The quality of connections counts more
But a network EHR is about more than size. The real secret to improving healthcare lies in the quality of the connections available to doctors and staff. Delivering the right information is essential, as is giving providers the means to make meaningful use of clinical data at the point of care.
That's where PRISMA, the health information search engine from eClinicalWorks, comes in.
PRISMA not only gathers patient records from all available sources but generates a searchable, timeline view of each patient's history. A provider can see a wealth of information about each patient — discharge summaries from hospitals, what took place at an urgent care clinic, previous diagnoses, which medications were prescribed, and when.
And because the patient's history is searchable, the provider can quickly find whatever they may be looking for, helping locate specific information or discern an overall pattern in that patient's health. All that information contributes to more effective clinical care and promotes better medical outcomes.
One eClinicalWorks practitioner, for example, recently saw a dozen new patients in an afternoon. Many of those patients were missing records, but PRISMA found information on all of them.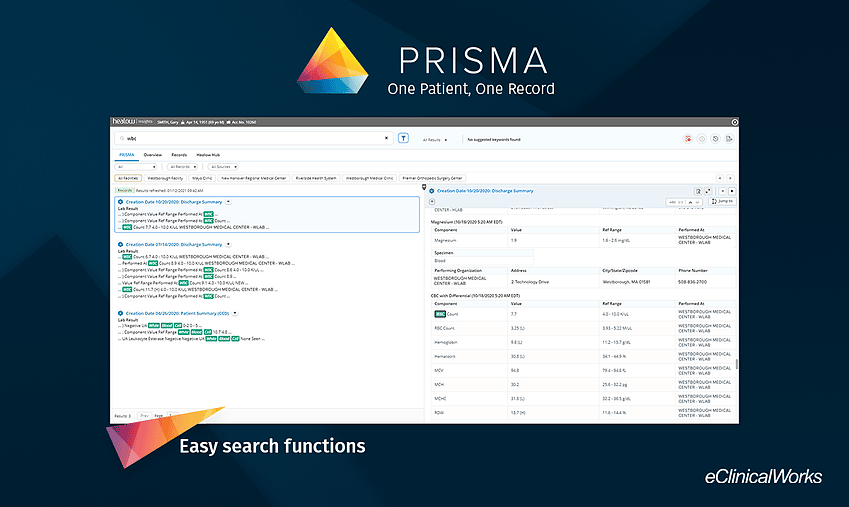 A new paradigm and a more powerful EHR
Nearly 60 years ago, another science pioneer, Thomas S. Kuhn, wrote in The Structure of Scientific Revolutions: "Led by a new paradigm, scientists adopt new instruments and look in new places. Even more important, during revolutions scientists see new and different things when looking with familiar instruments in places they have looked before."
Kuhn's words also hold for medical practitioners and the tools they bring to the art and science of healing.
Healthcare IT is by now familiar to nearly every healthcare provider in the nation. But a network EHR represents a significant advance with a familiar field, helping providers focus on technology not for its own sake but for the potential it holds to advance human wellness.
To learn more about PRISMA, click the button below.
{{cta('29d02b59-6dad-4ae6-af34-7ea43544e7e5′)}}