eClinicalWorks Blog Details
Innovations from Our National Conference
eClinicalWorks
The 2017 eClinicalWorks National Conference was full of excitement and announcements, as we brought together more than 4,000 medical professionals to explore the latest developments on the healthcare IT frontier. We debuted Eva, our virtual assistant, offered a sneak peek at V11, and highlighted what's new with our core EMR and Practice Management solution. From advances in interoperability to improvements in Revenue Cycle Management and much more, Dallas was unforgettable!
But as CEO Girish Navani said early on in this year's Keynote, it is vitally important to focus on having your customers walk alongside you as you innovate.
So, for all those who were there, those who were not, and the thousands of practitioners joining the eClinicalWorks family, walk with us as we recap some of the highlights of the 2017 National Conference.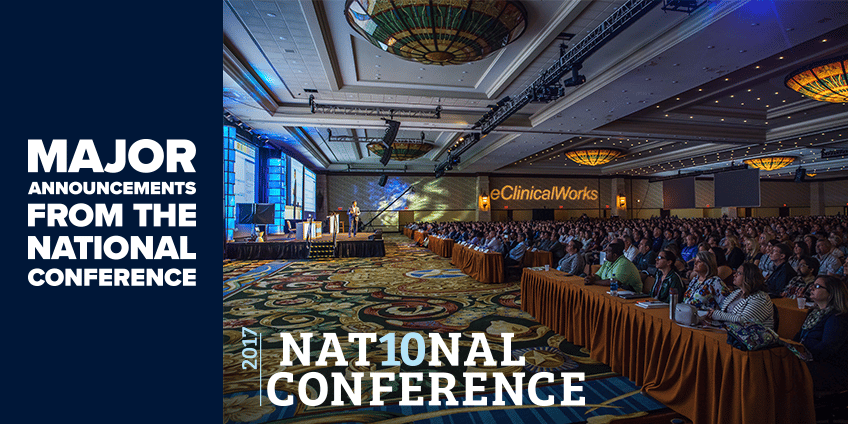 V11
Scheduled for release in Q4 of 2017, V11 is the latest version of our core EHR/PM solution, with hundreds of enhancements. In combination with our advances in interoperability, V11's speed and utility will transform practice workflows — with comprehensive documentation, better visibility for Population Health understanding, and more powerful tools for assessing risk. V11 is showing the way to the healthcare future — the truly interconnected and intelligent office and medical practice.
Eva
We call her Eva. She's smart. She's tireless. Most importantly, she's the EHR industry's first virtual assistant! Eva never forgets anything, and will improve the efficiency and quality of your practice. For the first time, providers will be able to use simple voice commands to retrieve patient data. They'll compare current and past Progress Notes side by side. Eva will put an end to guesswork, toggling between screens, and trying to remember the details vital to patient care and safety.
Interoperability: Self-activation
eClinicalWorks customers can now self-activate for seamless integration with both CommonWell Health Alliance® and the Carequality Interoperability Framework. Through these connections, practitioners enjoy access to comprehensive patient data from any participating hospital or health system, promoting safety and higher quality care.
Open Interoperability
The eClinicalWorks Open Interoperability (EOI) development platform allows third-party developers to build patient-facing applications that can operate through FHIR, a national standard for the exchange of healthcare information.
OpenNotes
eClinicalWorks now supports OpenNotes, allowing more than 130,000 physicians and nurse practitioners to share case notes through the Patient Portal, improving engagement and promoting better outcomes.
FIGmd
Our new partnership with FIGmd will enable connections to clinical data registries, with analytics and data reporting solutions to medical practices, specialty societies, medical professional associations, hospitals, and health systems.
Genomic data
In partnership with ActX, eClinicalWorks will incorporate genomic data into the EMR, opening a new era of precision medicine that promises to improve safety and efficacy.
These highlights from our Conference Product Showcase illustrate the innovation that drives every employee at eClinicalWorks. For more stories of how we are improving healthcare together, see these customer success stories that we highlighted during our Dallas Keynote!
{{cta('05252bc5-5c6a-48de-9164-803fed48eebc','justifycenter')}}