eClinicalWorks Blog Details
Overnight Transformations Are Possible!
eClinicalWorks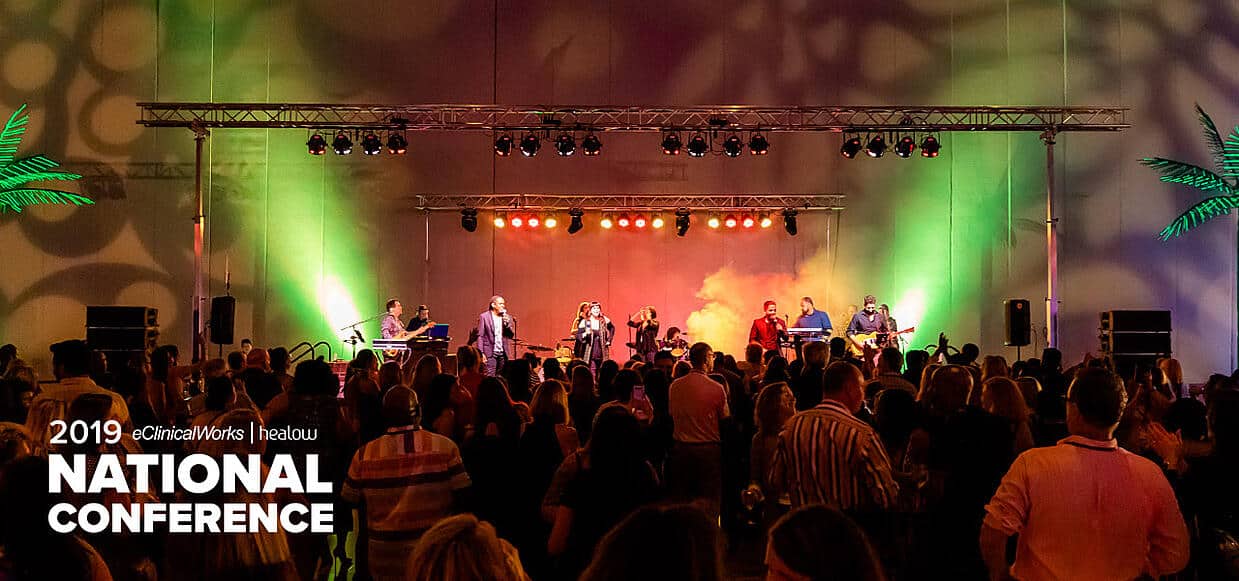 Capture the power of #eCWNC19
Where did the great music go? What happened to those illuminated palm trees? Who silenced the silent disco? By dawn on Sunday morning, all trace of Saturday night's amazing celebration was gone. Just a few thin hours stood between the final memorable chords from the sound stage and the serious business of Day 3 at the 2019 eClinicalWorks and healow National Conference.
The overnight transformation of the nation's premier healthcare IT conference mirrors the rapid pace of change in healthcare itself — and suggests a goal for many practices, regardless of their location, size, or specialty.
The script should be familiar: One day, it's business as usual at your practice. Suddenly, new mandates and reporting requirements arrive, patient volume reaches a tipping point, and competitors appear on the horizon. Stress levels soar.
The answer is clear: You need more resources — people, locations, products, and services — along with the training to implement them. Many practices attending the 2019 National Conference tell us that they recognize there's a great deal available in eClinicalWorks that they don't use. And addressing those gaps in healthcare IT is precisely why they joined us in Orlando this year.
As soon as Sunday's breakfast dishes were cleared away, the convention center space was once again all business. Attendees were back on the eClinicalWorks Events App, checking for their next breakout session, making notes, and looking for additional training.
Perhaps most importantly, they were finding one another, engaging in the networking that can only be found at the National Conference. It might be a mini-session, a roundtable discussion, or just a chance encounter that leads to a breakthrough in thinking, helping your practice discover ways to work smarter — and not harder — in the months and years ahead.
Remember that when Sunday is over, our Strategic Account Managers, product experts, and support portal — my.eclinicalworks.com — remain there for you.
Thank you for joining us in Orlando to celebrate 20 years of leadership in healthcare IT. As CEO Girish Navani said, our success is your success, and eClinicalWorks is truly your creation. As you return to your practices to reflect upon and share the knowledge you have gained this weekend, keep in mind that the learning never ends, and the transformation of your practice is already under way.
See you in Dallas in 2020!