eClinicalWorks Blog Details
A Second Day of Learning and Celebration
eClinicalWorks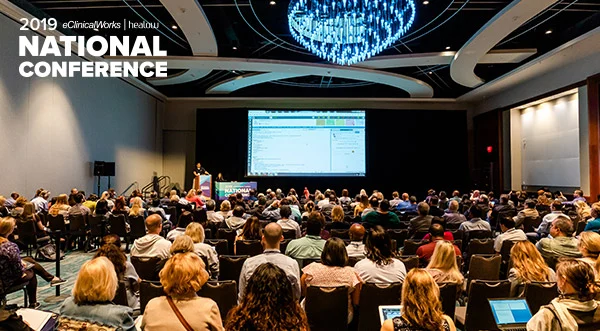 In the lobby of the Orlando World Center Marriott, the rhythmic patter of torrential rain washed across the glass ceiling in waves as thousands gathered for the second day of the eClinicalWorks and healow National Conference.
On Saturday morning, clients sat on plush square white seats and two rows of couches as they joined Adam Siladi and Dr. Ron Boesch, Executive Dean from Palmer College of Chiropractic Clinics, talk about the school's focus on patient safety and their interest in learning more about eClinicalWorks TeleVisits™.
The mini-sessions were anything but mini. Clinicians' eyes moved from speaker to notepad as they rapidly scribbled down useful information on topics such as online scheduling and best practices for referral workflow.
Better solutions for interoperability — on-demand exchange of patient records at the point of care — are joining Population Health modules and data analytics to drive deeper understanding of patient populations.
Attendees stopped by eCWCentral, where they spoke with product experts on interoperability, Population Health, Patient Engagement, and Revenue Cycle Management, as well as many eClinicalWorks sponsors and vendors.
CEO Girish Navani and other eCW executives were at the center of it all, chatting, laughing, and meeting with customers one-on-one.
Sometimes, the best learning takes place when we have an opportunity to kick back, relax, and reflect — wherever and whenever we can. Come celebrate with us at the Conference center space tonight from 7:00 to 11:30 PM for live music, food, and fun.
{{cta('c6c887e2-a469-4408-8f1b-1d8a84a25eba')}}