eClinicalWorks Blog Details
How to Ride Cloud Services to Success
eClinicalWorks
In late 1996, a group of Compaq and Netcentric executives gathered at an office park outside Houston and gave birth to a new idea: cloud computing. Technology would never be the same.
According to MIT Technology Review, Compaq's 50-page internal analysis of ideas discussed at that meeting accurately predicted that enterprise software would transform into cloud services and that the future meant "application software is no longer a feature of the hardware — but of the Internet."
Today, cloud computing fuels all kinds of businesses growth. Successful enterprises routinely align IT "infostructure" with business goals. If solutions aren't nimble, scalable, secure, convenient, and low cost — they aren't solutions at all.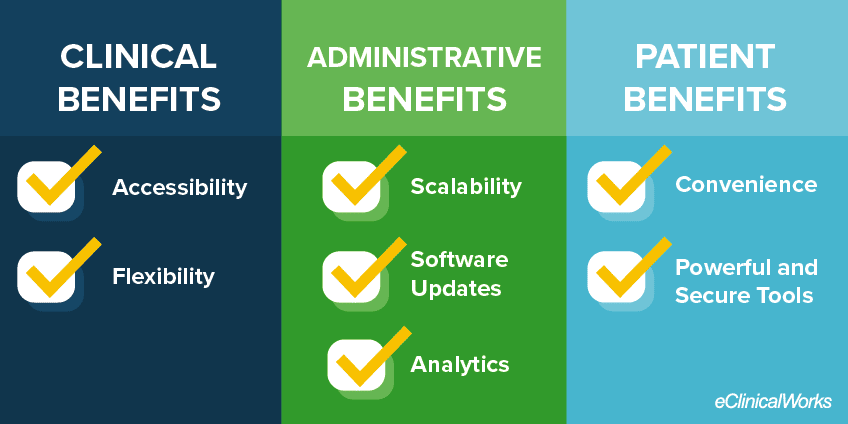 Clinical benefits
Accessibility — Providers can access patient information anytime, anywhere, on any device.
Flexibility — Multiple users can share patient information, promoting better outcomes.
Administrative benefits
Scalability — Lower hardware and storage costs mean organizations can reallocate resources to direct clinical care.
Software Updates — Software updates are scheduled and applied across a network, with no need to change individual user terminals.
Analytics — By consolidating data from multiple platforms, organizations can detect and analyze trends that may translate to new opportunities.
Patient benefits
Convenience — Simple and easy online appointment booking.
Powerful and Secure Tools — Apps like healow® Mom or healow Kids empower patients to take their healthcare into their own hands.
Adopting cloud computing
Despite the many benefits of cloud computing, its adoption in healthcare, as discussed in this March 2015 report, often lagged behind other industries. But with the Health Insurance Portability and Accountability Act (HIPAA) of 1996 and subsequent legislation, many data safety and security issues have been addressed, opening the way to wider adoption in healthcare IT.
How can practices overcome common obstacles, including the costs of replacing legacy systems, lengthy implementations, and the challenges of training? They need a strong healthcare IT partner.
eClinicalWorks offers:
A cloud-based, unified solution for EHR documentation, Practice Management, Patient Engagement, Population Health, billing, and more.

Implementation services, including data migration and on-site training.

Personalized timelines to meet each practice's goals for clinical excellence while remaining on schedule for Go-Live implementation across all locations.

An online eCW University to help administrators and super users gain the knowledge and confidence they need before trainers arrive.
For 20 years, the message has been clear: cloud computing! If you're interested in learning more, contact me today.
---