eClinicalWorks Blog Details
High Time to Get to the Cloud
eClinicalWorks

Practices must be prepared for the coming healthcare data storm
Emerj, an artificial intelligence and research firm, estimates that the healthcare industry now accounts for 30% of all the world's data, with annual growth rates that exceed those seen in manufacturing, financial services, and the entertainment industry.
"Every second, an exponential amount of healthcare data is generated and mined for valuable insights," notes a report that cites the Emerj data — The healthcare data explosion — from RBC Capital Markets.
Within three years, by 2025, the RBC report estimates, healthcare will account for 36% of the world's data as more and more humans add technology to everyday devices like toothbrushes, health monitors, glasses, watches, and wristbands.
In short, we live in a world where cat videos matter, but CT scans matter more.
The eClinicalWorks Cloud offers security, cost-savings, and more
Over our nearly 25 years of experience in healthcare IT, eClinicalWorks has evolved to become a cloud-first company, leveraging industry-leading solutions for keeping your patient and practice data safe, secure, and fully accessible.
Based on cost and security, the eClinicalWorks Cloud is a better way to run your practice. For starters, cloud-based practices don't bear the expenses of maintaining and upgrading servers and employing their own IT staff to maintain all that infrastructure. Moreover, they don't need to worry about the physical integrity of their servers being compromised by internal or external threats, including whatever Mother Nature may have in store.
But there are still more reasons to switch to the eClinicalWorks Cloud — and we keep adding more.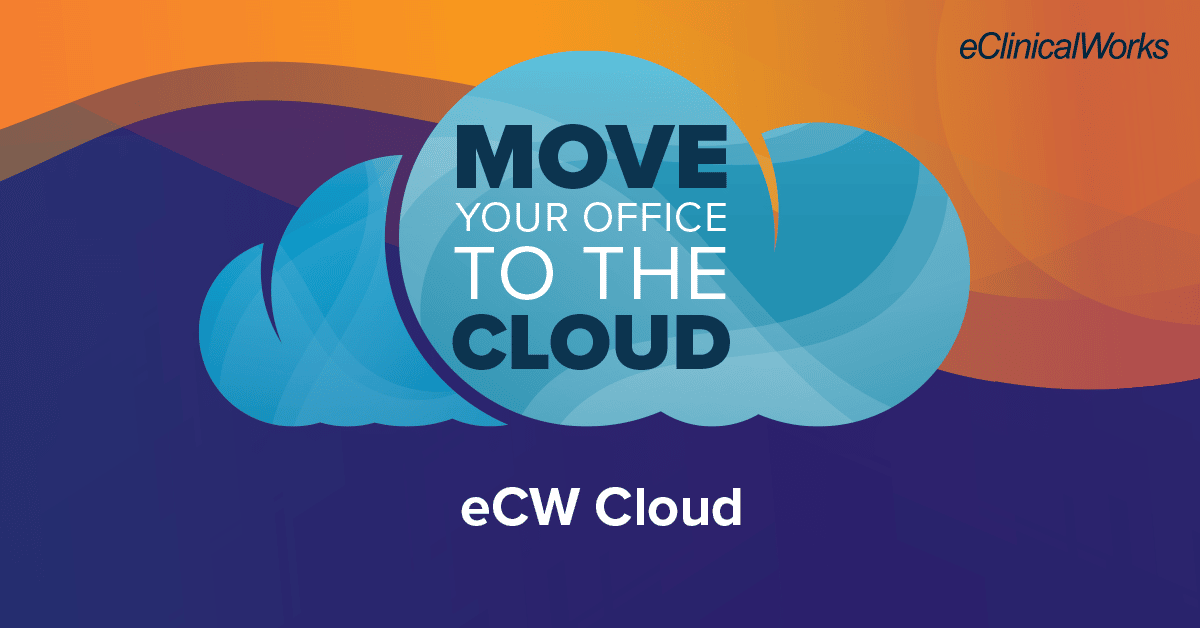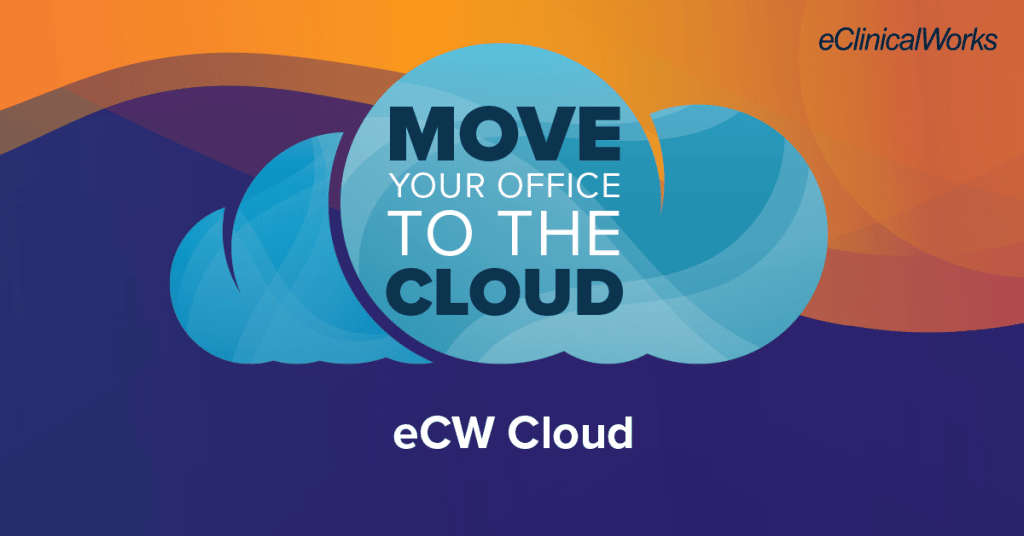 Key healthcare functions are increasingly cloud-based
Many of our core products and services — including e-prescriptions, Patient Portal, healow apps, and lab orders — already rely upon the Cloud. And as healthcare becomes increasingly sophisticated and data-driven, more and more functions will be achievable only through the cloud.
For example, important advances offered by the latest version of our EHR solution, the multidimensional eClinicalWorks V12, depend upon the Cloud. They include deriving maximum clinical insights from your patients' data and conducting advanced data analytics that can help practices achieve the goals of value-based care.
Those are functions that are unavailable to practices that may still be using a client-server model.
Now backed by the power of Microsoft Azure
The flexibility of our cloud-based EHR and Practice Management solution has been further strengthened through our more than $100 million investment with Microsoft Azure. In addition to a 99.9% uptime guarantee, eClinicalWorks customers can have confidence that their customer service needs remain what they have always been — our number one priority.
Key benefits of being on the eClinicalWorks Cloud with Microsoft Azure include:
Protection from Data Center Failure: Each primary data center hosted by Azure has a designated failover backup, ensuring that clients enjoy redundancy in hosting services.
Real-Time Monitoring: Azure provides real-time monitoring with state-of-the-art tools, improving reliability and user experience for those on the eClinicalWorks Cloud.
Protection Against Data Loss: Independent backups guard against destruction of original data by encrypting data during transmission to a secure recovery services vault.
Scalability as You Grow: Practices needn't worry about site storage, weather, capacity, or upgrades — and enjoy access to abundant resources as they grow.
Simpler Deployments and Upgrades: There's no need to worry about server-side upgrades or deployment cycles — eClinicalWorks manages upgrades automatically.
For more information or to arrange a demo, email bizdev.demo@eclinicalworks.com.