eClinicalWorks Blog Details
Healthcare: All About Community
eClinicalWorks
When you really think about it, healthcare is all about community. In a complex society, no individual or family is completely on their own. All of us need others to help ensure our health and welfare, whether they are family members, teachers, physicians, nurses, physical therapists, or mental health providers.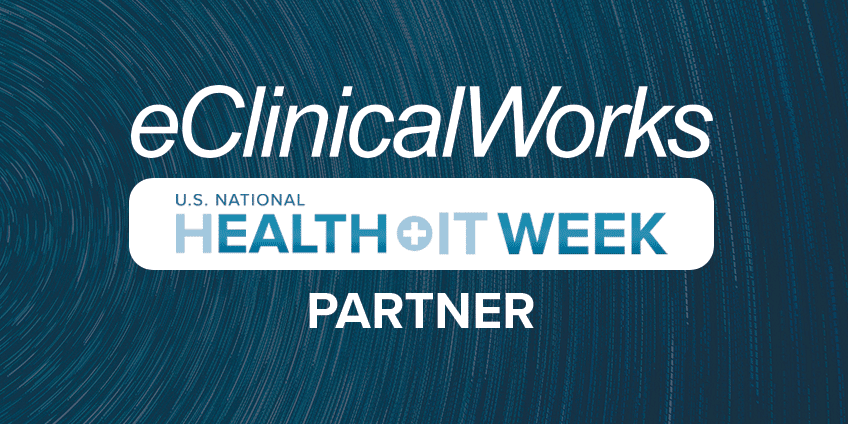 National Health IT Week, which runs September 23-27, is the perfect time to pause and think about the communities to which we all belong. This year's theme, "Supporting Health Communities," centers on numerous points of engagement pertaining to public health and Population Health.
As the Health IT Week website notes, each of the points demonstrates "how information and technology can transform health and create healthy communities."
An ongoing commitment
eClinicalWorks is proud to be a U.S. National Health IT Week Partner. But our partnership is based on more than simply agreeing with those goals. It is grounded in an ongoing commitment to healthy communities that informs every phase of the development and deployment of our healthcare IT products and services.

Health Centers: We are advancing the goals of public health by working with more than 850 health centers across the nation, helping them provide quality, evidence-based care to more than 28 million Americans, many of whom live in communities that lack ready access to other healthcare resources. Learn more.

Social Determinants of Health: Our work with health centers and our many other clients now includes an increased focus on Social Determinants of Health, the many factors — including family structure, income, community support, and mental health — that are not traditionally viewed as part of an individual's physical health, but are increasingly recognized as important factors affecting well-being.

Population Health: Our products and services give providers of every size and type the tools they need to better understand and meet the challenges of population-based health. That includes tools for better care planning, management of chronic conditions, and creating patient-centric care models. Learn more.

Telemedicine: Through our healow TeleVisits telemedicine solution, eClinicalWorks is helping practices overcome limitations that often keep individuals from receiving the care they need. When medically appropriate, healow TeleVisits can offer patients and providers the convenience of online visits, helping overcome barriers of time and distance. Learn more.
Healthcare IT Year-Round
From our founding in 1999 until today, eClinicalWorks has always recognized that healthcare IT plays a vital role both for medical practices and the communities they serve. That is why we invest so heavily in the human talent and technologies needed to drive innovative design. It's why we visit communities across the nation each week to bring our products and services closer to the clients we serve. And it's why we hold a National Conference each year to bring together our employees, customers, vendors, and partners.
National Health IT Week is a great opportunity to pause and reflect upon the values of communities. But at eClinicalWorks, healthcare IT is what we do each and every week throughout the year.
{{cta('83b0b0a5-6314-42c2-810e-a5d9be028acb','justifycenter')}}