3M, now with M*Modal, is the leading provider of speech-driven and artificial intelligence (AI) powered clinical documentation solutions that help physicians to more efficiently capture the complete patient narrative. Used by over 300,000 physicians, our eClinicalWorks integrated conversational AI platform has been ranked #1 Best in KLAS, Speech Recognition, Front-End EMR for four consecutive years including 2020.
The M*Modal cloud-based, documentation platform enables eClinicalWorks users to create higher-quality clinical notes directly in their EHR.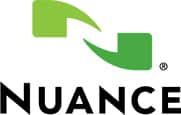 Nuance is a leader in AI-powered speech recognition and real-time intelligence solutions that support a more natural and insightful approach to clinical documentation, freeing clinicians to spend more time caring for patients. With Dragon Medical One, physicians can harness the power and security of the cloud to dictate directly into eClinicalWorks and third-party productivity apps from virtually anywhere—all without on-site servers or storage. And for a truly mobile experience, physicians can use their single voice profile with Dragon Medical embedded in eClinicalMobile and eClinicalTouch. Nuance's proven solutions are trusted by more than 500,000 clinicians in 10,000 healthcare organizations worldwide to drive meaningful clinical and financial outcomes. To learn more, visit nuance.com/healthcare.